Writing is a stimulating and creative activity.  It promotes reflective thought, increases vocabulary, and helps us articulate heart-felt emotion.  Many shy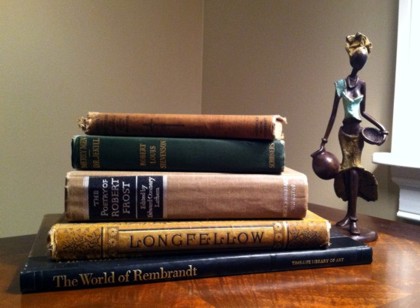 away from traditional arts such as drawing, painting, or playing an instrument for fear of open scrutiny.  Writing, on the other hand, can easily be kept private until you are ready to venture out into the public arena. Be willing to share your talent.
I began writing when I was a teenager.  For me, it was a way to express feelings that needed an outlet but not necessarily an audience.  Occasionally a short story or a poem worked to the point where I thought someone else would gain from my words and then I would share it; but even if no one ever read a thing I'd written, it still did something for me.  The power of my own words cheered me on and helped me through many a tough day.
More recently, I've written and published a book called Created to be Creative – Find Purpose and Fulfillment through Creative Outlets.  The many challenges that came with that process made me a better writer, a stronger person, and it greatly increased my confidence.  Even straight out rejection on my first draft didn't deter me or cause me to quit.  I knew many people who would benefit from a book that could help them find their purpose and give them the encouragement they needed to try creative things – myself included.  I was forced to practice and live-out the principle I wrote about.  Again, the power of my own words cheered me on.
Now the process of writing alone is no longer enough to satisfy.  This quote by Elle K. White helped me to understand why: "Words are only half alive until they are read by someone." She should know, she's written a fantastic novel called Deep City and has just started giving it to a few friends to read. The feedback is so positive that she's realized all her time and effort to write such an intriguing story could not fully be alive until others found pleasure in what she had written. The personal success and fulfillment she experienced while writing the book dwarf in comparison to the invigorating power of knowing others are not only reading, but totally enjoying her words. So excited are her readers that she's now working on final edits so she can get it published for the masses to enjoy.
Elle K.'s quote jumped right off the page and made me realize that no matter how fulfilled I feel while writing, it doesn't come close to matching the

satisfaction that comes when people let me know they enjoyed reading my book and how it moved them to action. Or how they look forward to reading my blogs.  Knowing my words have not only been read but have become an encouragement to others completes the cycle and brings purpose to my creative outlet.
We all have to start somewhere. It might be years before it's visible to others, but eventually our goal should be to share our talents, making them fully, 100% alive.
Note: You can follow Elle K. White on Facebook.
I'm the author of: Created to be Creative
to purchase my book  Click Here
eBook available