I've used the words of Margaret Becker to start my blog because every time I hear this song the words move me to do some soul-searching. (chorus removed twice)
Look Me in the Eye
I found a letter I wrote to You
In the bottom of the drawer
Simple words, simple point of view
That I don't have much anymore
It said "I don't want fortune
I don't want fame
I only want the treasure
That time can't take away"
Look me in the eye
Tell me if You see
Traces of Yourself
Growing here in me
Tell me if You find
Your heart in mine
I pray You'll see Your light
When You look me in the eye
Many years have come and gone
Since I wrote that page
And somehow with the passing time
I've let that truth slip away
Dear Lord remind me
Each and every day that your
Holiness, your Godliness
Is all that will remain
Now I see you
Much too dimly
But someday we'll be
Eye to eye
When I see You
I want to hear You say
That you were proud of my life
Lord touch my heart
Center my soul
Till all I do
Is for You alone
~~~~~~~~~~~~~~~
The Passion Translation of Psalms 139:23-24 says, "God, I invite your searching gaze into my heart. Examine me through and through; find out everything that may be hidden within me. Put me to the test and sift through all my anxious cares. See if there is any path of pain I'm walking on, and lead me back to your glorious, everlasting ways—the path that brings me back to you."
Today is as good a day as any to do some soul-searching. Here is a question to help us get started:
Are we in a good place with our passion for the Lord? In other words, are we as on fire for the things of God as we were when we first came to the saving grace of Jesus Christ?
If we're honest with ourselves, if we've been saved for any length of time, we've had some seasons where we've not been as zealous as we were when we first believed. Sure, there have been revivals and times of refreshing that have kept us going, but a genuine enthusiasm for the LORD and His purpose, on the whole, have waned.
I had the opportunity at a recent conference to speak with several Pastors or their wives, and many said their churches were struggling. That breaks my heart and even though we're faithful at our local church, their words made me do some soul-searching . . . Hence the verse I used.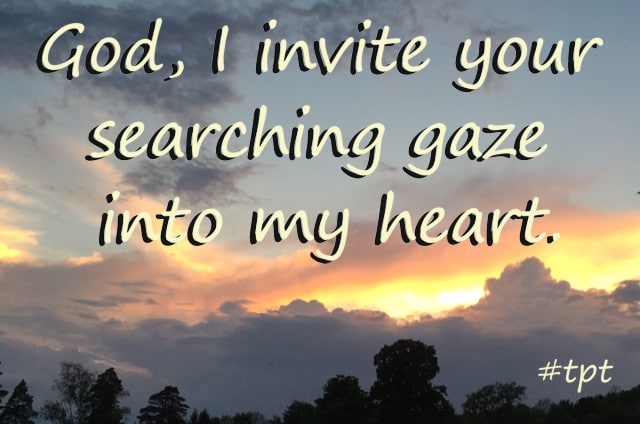 I am doing all the external things right, but what about the hidden things of the heart?
Am I fervent in Prayer? Not as much as I should be.
Do I read my Bible daily? Yes, but not with the same hunger.
What about passionate Worship? At times my mind wanders.
Though it hurts to be honest, it also makes me aware that I'm not where I should be or want to be in my walk with the Lord. I also realized that I let some personal disappointments take the wind out of my sails and I quit moving forward with the same intensity as I once did. When the tests came, I allowed discouragement to beat me down and I've set my writing, the thing I believe God called me to do, to the side. I've poured all my energies into gardening and projects, which keep me distracted from spiritual things.
Serving the Lord through good works is absolutely necessary for Kingdom Living, but that can only carry us so far. If our hearts are not right with the Lord, if we're not attached to Him, the Vine, our Spiritual Lifeline, and seeking Him daily, eventually we will wither up and die. Some of us will survive for a while longer because we're built on Christ the solid rock and He would that none should perish. But if we don't occasionally search our hearts and be honest about what we find, we're in danger of coming up short. We could miss out on all that God has for us and end up not fulfilling His will for our lives. I've seen people who were saved for over thirty years fall away. This is not a game! God is a rewarder of those who diligently seek Him.
Pray for God to restore the joy of your salvation. Stir your spiritual coals and become passionate for Jesus again. When our hearts are right and our passions high and our prayers fervent, He can use us for eternal things.
Dear Jesus, please forgive me and help me make the needed adjustments to become spiritually strong once again. Thank You for putting me to the test and for showing me the parts of my heart that have become lukewarm. I will stir the coals and add spiritual fuel to the fire, that I might become zealously hot and pleasing to you, Lord Jesus.
Remember, how we live for the Lord here is all that will remain there.
Don't let discouragements become an excuse to become lukewarm. Take a moment to identify the things that have weakened your resolve.
"Lord touch my heart | Center my soul | Till all I do | Is for You alone"
Lord, "See if there is any path of pain I'm walking on, and lead me back to your glorious, everlasting ways—the path that brings me back to you."