Unfamiliar paths and mountain trails intrigue me.  They call me forward to traverse their terrain. No matter how steep or rugged, I'm compelled to see what lies beyond. The longer or harder it is, the more fulfilling the climb it becomes because it aids my ability to find beauty in the challenge.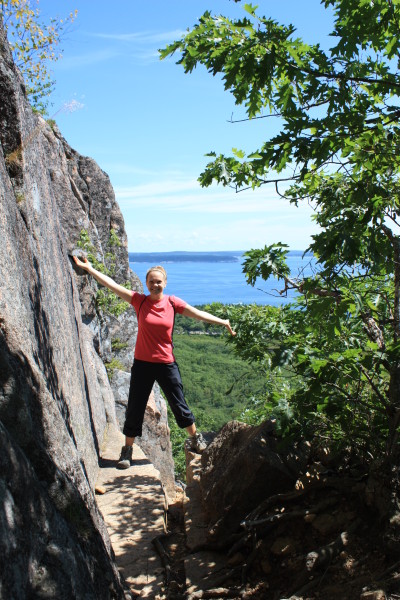 One of my favorite hikes is a trail at Acadia National Park called the Precipice. It's a difficult climb, one-thousand feet straight up the east side of Champlain Mountain. Unlike nearby Cadillac Mountain, you cannot simply drive to the top to enjoy the view.  The first time I ventured up the Precipice, it was with my daughter, Jay.  The info we had said, "The trail is only recommended for physically fit and experienced hikers who have no fear of heights." The photos included were beautiful so we eagerly accepted the challenge and began our ascent. We had to climb over, around, and, in one place even under, rocks. There were several iron ladders and even more random rungs to help maneuver steps that couldn't be reached without additional aid. Part of the trail goes right along a cliff, with no more than an iron rung drilled into the edge of the mountain and grooves cut into the stone path to secure footing.
We experienced every aspect of the climb, from fatigue and muscle strain to spectacular views and unique perspectives, along the trail.  Some of the views we witnessed along the way could not be seen from the top, nor from the bottom. We had to exert effort and overcome obstacles so we could enjoy these intervals of beauty that lined the trail and provided great views of the ocean. There were times though, where our sight was limited by rocks and foliage.  As in life, we can't always see what lies ahead and must keep pushing forward.  Consequently, we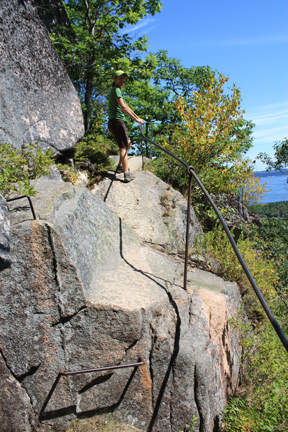 kept our eyes open to what came next, because if our focus had been only on the trail and dealing with the challenges, we would have missed out.  We valued that mountain top experience more because we not only conquered the path to get there, but we also enjoyed the climb.  It also kept us from begrudging the dull and/or difficult parts of the trail because they were necessary to our journey.
How often do we want to skip the climb to gain the mountain top experience?  Yet there is something magical that transpires during the process when approached with purpose.  No one made us hike the Precipice; it was a choice we freely made. The higher we climbed the harder it got. However, when we made it up the last ladder and around the final bend, we raised our arms in victory and agreed it worth the struggle.
In our moment of triumph, gazing out over the Atlantic, we stopped to thank Jesus for that amazing experience. We took lots of photos, while soaking in the warm August air and the beauty of the day. As we sat to rest, it hit us; we still had to climb back down.  I couldn't imagine having to take that same path back; it was scary enough on the way up. After making some enquiries, we were relieved to find there was a different trail and, though less grueling, it was still a challenge.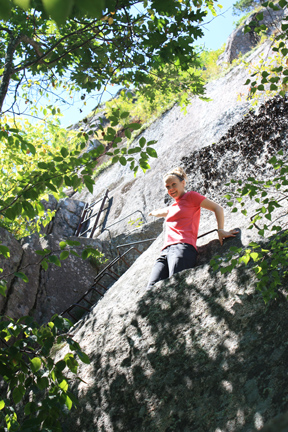 Reflecting on this, it's clear that mountain tops are for times of refreshing, which we all need on occasion, but we cannot stay or live there. That's why if we don't seek out those special moments along the way – the times of refreshing in the presence of the Lord – life can become a drudge. If not careful, we end up only focusing on the obstacle instead of the purpose.  Remember: God always has a purpose, even in the pain.
Therefore, hiking reminds me of life: there will always be ups and downs, joys and struggles, amazing views and blind spots, triumphs and even temporary setbacks.  There is beauty along the way, if we will only take the time to look. We can miss those moments, especially if we allow the mountain to become bigger than the joy of conquering it. Keep in mind, at times the desired mountain top experience occurs at unexpected intervals, like when difficulty finds its way to blessing. Or when beauty is not necessarily "pretty" but it moved our heart to respond. Struggle is a part of life and cannot be avoided. No path is perfect and no journey taken without at least some level of difficulty. If it were, there would be no added pleasure, or praise to our Maker, when we've run our race and finished our course in victory.
Jay and me at the top of the Precipice in Acadia National Park, ME.
For more beautiful photos and another great story, read unexpected puddles.
I'm the author of: Created to be Creative
to purchase my book  Click Here
eBook available