Consider for a moment the original state of Adam and Eve; they were the only beings created in the precious image of God and made to live forever. They dwelt in a magnificent garden where all their needs were met, and above all, they communed with their Maker on a daily basis. Who could want more? Eve. She was tricked into believing that the Almighty was withholding from her . . . "To be as gods . . ." Eve had it all, and yet she discovered that personal comfort and the abundance of things did not keep her from temptation, nor did they protect her from making a rash decision. I wonder if she even considered the consequences as she reached out to take the forbidden fruit. Did she hesitate, or in one reckless move of passion did she eat, hoping for something miraculous above and beyond all she had ever known? Were her eyes opened immediately to the grave reality of her fallen condition or did she enjoy a moment of pleasure before recognizing her irreversible fate?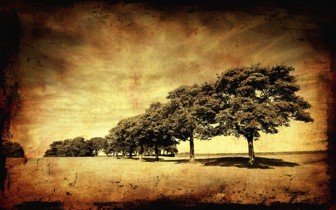 Though death has passed onto all flesh, the desire for personal gain, power, and prestige have plagued the human race. The epic struggle between "good and evil" has caused men to justify their "good works" making them believe they can become invincible apart from God.
What then do we make of JESUS? Eve risked everything to be as gods; on the contrary, Jesus left everything to become a man! Phil 2:5-8 admonishes, "Let this mind be in you, which was also in Christ Jesus: Who, being in the form of God, thought it not robbery to be equal with God: But made himself of no reputation, and took upon him the form of a servant, and was made in the likeness of men: And being found in fashion as a man, he humbled himself, and became obedient unto death, even the death of the cross."
What an amazing contrast between the desires of the flesh and the desires of the living God. The first wants only what will benefit self, not concerned with how one's actions will affect others, inevitably ending in death. The second willingly died to benefit all humanity, ultimately resulting in eternal life for all those who repent of their sins and accept Jesus' sacrifice. In Christ, we should no longer desire to be as gods, but to become the Children of God, walking in humility and servitude. Jesus calls us to follow His example; may we represent Him well to a lost and dying world that needs a Savior, not another god.