My town is small. So small, in fact, that we don't even have a traffic light. Thanks to local entrepreneurs, the majority of the buildings along Main Street are occupied, most with antique shops or thrift stores, along with the library, bank, and post office. The buildings are all old, but they hold historic interest. The street is lined with Maple trees and rustic lamp posts.  All in all, it's a quaint village that would be a great vacation spot . . . if only we had an ocean, or a canyon, or snow-peaked mountains . . . but we don't.  Consequently, it remains a small, quiet town with hopes of more, but content with less.
In spite of these businesses, there are still a few unoccupied storefronts that are in rough shape. This one hasn't been open for public use in decades, but it has been maintained and was even re-painted once upon a time.
At first glance, it's not much to look at, but that's where creativity comes in.  To the observant, buildings like this grab the attention, not because they are beautiful or grand. Not because they are new or perfect, but because they have character, history, and in their own way, charm. Beyond that, there may even be possibilities.
It's all about looking past the obvious—an old building—to see what it can become, to find the hidden potential.  I'm not talking about renovating the building to make it a thriving business, though that could be a viable option. I'm thinking simple, like how it can take on a whole new look or feel by adding something of visual interest.  For example, it becomes a fantastic setting for photos when cropped appropriately.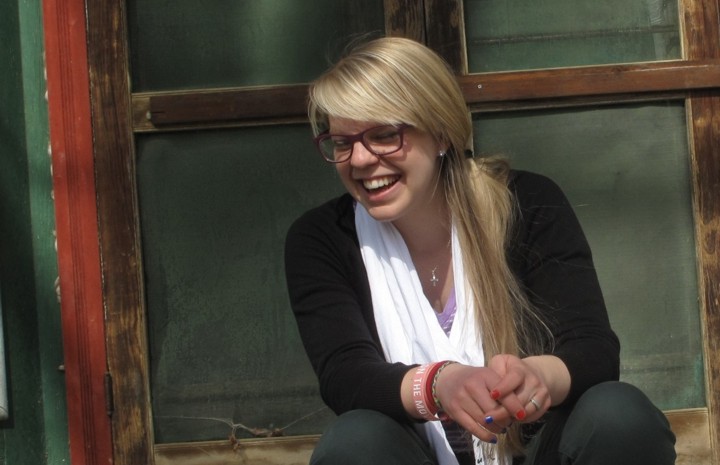 My daughter and some of her college friends came to our town several years ago. Each of them used a different building as the backdrop for their senior pictures. This is one of my favorites!
Next time you're out for a walk or taking a drive, try paying attention to your surroundings and see if you notice something that you've never seen before. You could be surprised by what you actually discover.  You may even find a hidden treasure to become the backdrop for your next photo or maybe the setting for a new painting.  If nothing catches your eye, don't lose heart. It's a good habit to learn to observe what's around you. In time, you just might be amazed by what you see and the possibilities that come with it.
If you haven't yet, please check out my debut novel, THE PAINTER
Adventure, mystery, and a touch of romance = The perfect summer read.