In the book, The Magician's Nephew, by C.S. Lewis, Aslan sends Polly and Digory on a mission.  Along the way, they find themselves hungry with no provisions. The children wonder why Aslan hadn't supplied food since He would have known they would need it.   "I've no doubt he would," says Fledge, their talking horse, "but I've a sort of idea he likes to be asked."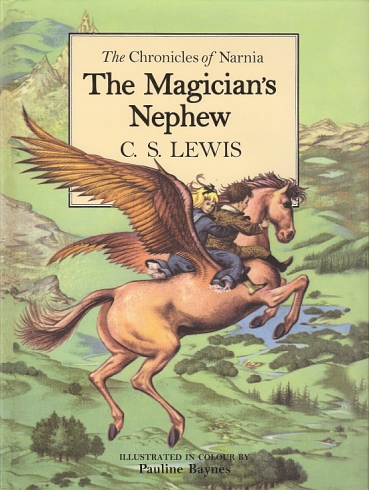 Such a simple truth in a children's story and yet, at times I struggle with the concept of prayer. I know God is Sovereign; that He has a plan, and He will fulfill that plan…all in His good timing. I also believe He knows what I need even better than I do myself. How could my feeble request, with my limited understanding, make a difference in the actions of Almighty God?  I can relate to David when he asked in Psalm 8:4, "What is man, that thou art mindful of him?"  However, God's word is very clear: we are called to pray and to believe our prayers do make a difference.
I was convicted of this recently while reading 2 Corinthians 1 where the Apostle Paul relays an account of how he and his companions had struggled under severe persecution, to the point where they despaired even of life. (vs.8) But it was verse 11 that caught my attention: "You also helping together in prayer for us…" Paul doubted whether they would get out of that situation alive and he realized that the prayers of the saints at Corinth had helped pull them through.  He was mindful that he and his men lived and that they would continue to preach the Gospel, in part, because back home there were faithful people praying for their safety and success.
I don't know anyone personally in an actual life and death situation.  However, I do know several that are struggling with serious health issues and others that are stuck between a rock and a hard place… a place of constant battle where despair threatens to wreak havoc in their lives. While reading these verses, my eyes were opened to the fact, that though I might not be able to do much for them, my prayers can impact their lives for good. That through prayer, they will supernaturally find the strength they need to make it through another day, while coming to the realization that the God of hope has not abandoned them in their hour of need.
There have been several times in my life where the prayers of the saints have pulled me through. This should resolve any struggle I have with the concept of prayer and cause me to stand in the gap for others.
This also rings true when it comes to praying for my Pastor, especially when he travels abroad to preach the Gospel. He goes to places I will never see and ministers to people I will never meet, but when I pray for him, he is helped. We cannot all be on the front lines of service, but we can have a share in the work they do by standing beside them together in prayer.
There is purpose and power in prayer. We should not be intimidated or feel inadequate in our prayers.  Nor should we feel small or insignificant because God's purposes go beyond us.  We must faithfully bring our petitions before God who, though His heart is ready to supply every need, likes to be asked all the same.