I have a printer in my office that randomly sounds like it's running. Familiar with this sound, it usually gets my attention, especially if I haven't sent a job to the printer. Because the machine is fairly new, I'll look to see what's happening. The screen will read this message: "Time to perform a self check."  It will also quit in the middle of a big job and say the same thing.  After a minute or so, it continues printing.
Performing self-check. My printer is programmed to check every-so-often to make sure it's working properly. If not, it will give me an error code and I'll know it needs maintenance. This message caused me to think of my life and question, "When was the last time I did a self-check?"
Jesus tells a parable in Luke 18:9-14 about two men, the one a Pharisee, the other a tax-collector. Their self-checks were performed in opposite ways. The Pharisee was self-righteous and proud. He boldly proclaimed to God how good he was and gave a list of his accolades. He even compared himself with others, thankful he wasn't like them!
The tax-collector on the other hand would not so much as lift his eyes to heaven, but beat upon his chest saying, "God be merciful to me a sinner!"
The stark contrast between the two men is undeniable. The point is crystal clear. The one who performed an honest self-check saw the reality of his flaws and repented. Jesus said, "This man went home justified." The one who evaluated his life through rose colored glasses did not see the error of his pride and was not justified.
2 Corinthians 10:12 admonishes: " We do not dare to classify or compare ourselves with some who commend themselves. When they measure themselves by themselves and compare themselves with themselves, they are not wise."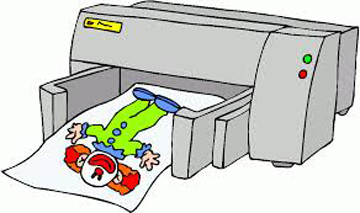 There are two printers in my office; the one does not compare itself to the other one and say, "I'm better than you because I print in full color and you don't."  No, when performing a self-check, it evaluates itself against the manual standards.
God has made us and given us a very thorough manual: the Bible. If we will read it and be mindful to compare our lives against that standard, we will function at top quality and even recognize the error message when we're not.
Phil 3:14-15   tells us, "I press toward the goal for the prize of the upward call of God in Christ Jesus. Therefore let us, as many as are mature, have this mind; and if in anything you think otherwise, God will reveal even this to you."
I like quality, be it in the products I use, the art I produce, or the work I do.  How much more should I want to represent the Lord well in every area of my life?  I don't know about you, but for me, it's time for a self-check.
I'm the author of: Created to be Creative
to purchase my book  Click Here
eBook available