Here is a bit of information on my debut novel, THE PAINTER, and how it came to be.
I had already written a full-length story about Parker, a twenty-seven-year-old photographer. Though I was told that the story was good, and even had a reputable agent request the full manuscript, he said my writing wasn't quite there yet.
Shortly after this, an author friend of mine suggested that I write a second novel. She said, "The more you write, the more your writing will naturally improve." I not only took her advice, I learned as much as I could about honing my craft. After some great beta help, several rewrites, and quality editing, we have a winner in, The Painter.
Another part of the publishing learning curve was to understand what the marketplace wants. A different agent told me, "Romance sells. Even Stephen King adds some romance." But including romance to The Photographer would have ruined the strength, seriousness, and beauty of the painful, yet redemptive story. This is the biggest reason I decided to publish The Painter, first.
Though The Photographer is a standalone novel, I've learned that it's good to link books together, so I decided to write a series. I've continued with the same concept of elements changing in each form of art to help create interesting and unique storylines.
I also did a painting of an old barn and 1958 Chevy pickup for the book cover because this was the idea that started it all. I left the painting unfinished because it's going to change anyway. You won't learn about this painting until later in the plot, and I'm not going to play spoiler by telling you what it changes to or why.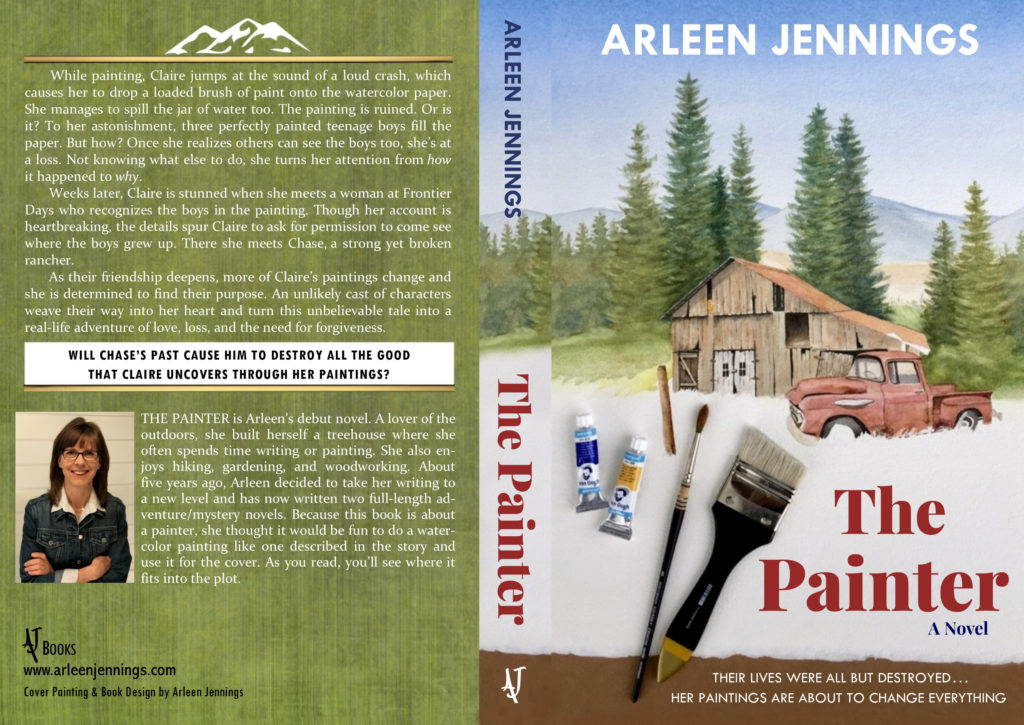 The thing that amazes me the most, and for which I am incredibly grateful, is how God gives me these stories. From my first thoughts to the finale . . . how each part falls into place . . . it blows my mind. I love this story, but then again, if I didn't, I certainly wouldn't expect you to. 😊
The Painter is set in Wyoming with cowboys, beautiful scenery, and Claire—a horse-training cowgirl who loves to paint.
The story was fun to write because Claire reminds me of myself when I was younger. I grew up on a farm, love the great outdoors, and have done several paintings over the years. Watercolor is my favorite. I've also set up a booth at arts and crafts fairs to sell my artwork, giving me firsthand experience for this novel.
The mystery, on the other hand, is bigger than me. To make my story authentic, I've gleaned from the real-life experiences of others. Their lives add an interesting depth to the unlikely cast of characters weaved into this story.
For those of you who enjoy a thread of romance, added to an intriguing story of love, loss, and the need for forgiveness, you'll find it here. I hope you'll join me on this mystery-filled adventure as Claire searches for answers.

If you like to hold a book in your hands, I've kept the paperback price at only $13.99 which is $3.00 below industry standards for a book of this length and quality. I'm also offering the Kindle eBook for FREE with a paperback purchase. Be sure to hit that button before you checkout. (If you don't have a Kindle, you can download the Kindle App to your phone, iPad or tablet.)
If you prefer to read on your device, the eBook is only $3.99!


I would love to hear what you think of THE PAINTER.
Thanks & God Bless,
Arleen