Though a drawing consists of lines, lines can only tell part of the story. The steady hand of an experienced artist taught me this lesson while watching him sketch a young woman. He quickly outlined the face, adding each feature with such ease, every line precise. It took only a few moments to capture the woman's likeness and yet it seemed ordinary and uninviting. While pondering why, I continued to observe as he began to add shading and highlights. What a difference this made; the face took on depth and a luster that made it more life-like. Still something was missing, but what was it? Before I had time to think about the answer, the artist began using his fingers and proceeded to smudge some of the rough edges, causing them to look softer. Lines disappeared into smooth even shading and the face seemed to come alive; I could feel the smile as well as see it. The highlights in her eyes not only revealed the light source, but also sparkled with sincerity. It was as if the artist's rendering captured the woman's vibrant personality; the finished sketch made her look like someone you would like to meet. Portraying purpose.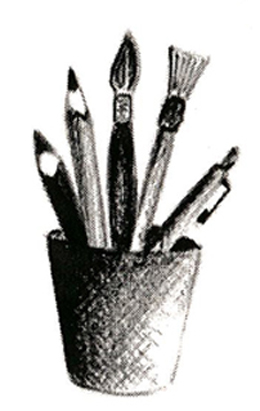 I have seen other portraits, however, that were so stark it made me wonder if the person's demeanor was really that sharp and it gave me an uneasy feeling. If a drawing can make us think, feel, or respond in different ways, how much more should we realize our lives cause a response—good, bad, or indifferent—where people form judgments of us by the impression we leave with them upon our meeting. Our personalities and how we represent ourselves make a difference in how others receive us. We could be fantastic authors, artists, musicians, etc., but if the sharpness of our behavior or the image we portray turns people off, it will close at least some doors of opportunity. I learned this through experience. I have all the characteristics of a friendly outgoing person, but in the past my rough edges manifested and others witnessed this weakness. The result: there were those who didn't hold their gaze long enough to see the softer side of me and for them, I lost my ability to minister and/or to serve.
Unfortunately, some situations don't offer us a second chance; that's why it's of utmost importance we take heed to our mannerisms and allow the Spirit of God to soften our edges. We are God's art and as He brings adjustments. The smudging, blending, and smoothing out of our coarse tendencies can cause life to get a little blurry, even bringing pain at times. We may even want God to pull back His finger and call it "good enough" on the painting of our lives, but we must trust that He knows best. "Now no chastening seems to be joyful for the present, but painful; nevertheless, afterward it yields the peaceable fruit of righteousness to those who have been trained by it" (Hebrews 12:11). If we get lost in the moment and forget His dealings are for our own good, we won't allow Him to achieve the detail He desires whereby making us someone people would like to meet and the witnesses He expects us to be.
The artist who did the drawing of the young woman could have chosen to leave the edges rough, a stylistic preference; but his purpose of showing us the radiance of youth would not have been accomplished by doing so. He made a statement by tempering her features; the finished piece represented his intention. Hereby I pose a question: Does the art in this case characterize the artist or the woman portrayed? The woman is clearly recognizable, and the artist's style obvious; both are needed to accomplish the anticipated goal, right? Yet the fame goes not to the woman, but to the artist who put her on display! Even so, God has an objective and, allowing His artistic touch to permeate our lives generates opportunity for Him to display His objective, which is to reveal His righteous nature through us.
An ambassador does not come representing himself or his own opinions, but the ideals of the nation from whence he was sent. Accordingly, we must keep ourselves within all the boundaries of God's word, understanding that we are His ambassadors to a lost and dying world. In our lives and through our creative expression, may we show forth the image of God.
This is an excerpt from my book, "Created to be Creative, find purpose and fulfillment through creative outlets"
I'm the author of: Created to be Creative
to purchase my book  Click Here
eBook available