"O my soul, thou art capable of enjoying God; woe to you if thou art contented with anything less than God." Francis DeSales
I'm amazed that the God of all the universe knows each one of us by name.  Even more incredible is the fact that He cares about our lives!  Think about this: we have the opportunity to know Him—the Creator of heaven and earth—on a personal level. We have been blessed with the privilege to commune with Him and to enjoy His presence.  Ps 16:11 says, "You will show me the path of life; In Your presence is fullness of joy; At Your right hand are pleasures forevermore."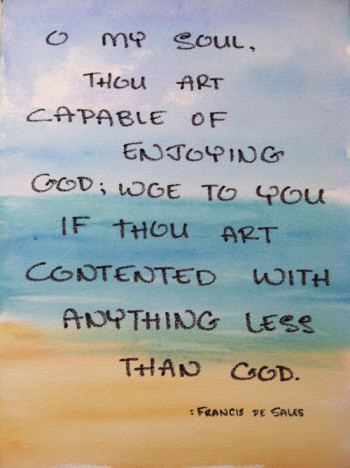 You could say, "That must take a lot of faith to believe something so marvelous could be true!"  Not really; I've had too many encounters with the Almighty not to believe.  Plus, to put a face on His omnipotence, he became a man and walked among us. Ultimately, Jesus gave us the greatest sacrifice known to man – His Life. What an amazing God, awesome in every way. Oh that we would hunger and thirst after Him. That we might "know him, and the power of his resurrection, and the fellowship of his sufferings…" Phil 3:10 That we would repay the favor He has shown us by being totally and passionately committed unto Him in all we do and say.
We sing a song in our church, "You're all I want, You're all I need…" and I'm always convicted, because no matter how much I love Jesus, there are times when I've taken His love and presence for granted.  How about you? Is your passion for God as strong, or stronger, than when you first believed? Or has the joy of your salvation diminished over time? That can happen in relationships if we are not mindful.  Most of the time we don't do it on purpose, it just happens.  We get busy. We don't communicate as much. Just as it takes work to keep our earthly relationships strong, the same is true when it comes to living in the fullness of all that God has for us.
The cry of my heart should be like that of David's in Ps 63:8, "My soul follows hard after You…"  In modern terms we could say, "I gladly pursue you because you are so worth it."  If we could truly comprehend the love of God, the significance of His presence in our lives, the purpose for our being, it would change us. So much so, that nothing else would satisfy.
Though we've been created with the capacity to fellowship with God; how much we actually enjoy Him is determined solely by our actions. God tells us through the prophet Jeremiah, "And you will SEEK ME and FIND ME, when you Search for ME with ALL YOUR HEART." (29:13) This should not be hard, though it does take time and effort. Nor should it seem like drudgery, especially when the outcome is fullness of joy.  To be engulfed in God's glorious presence. It's His presence which guides us along right paths, where the love of God so fills us that it freely flows through us. Where others are drawn to Jesus, because we serve Him with a willing and joyful heart.
Ps 149:1-5 admonishes us to, "Praise the Lord! Sing to the Lord a new song, and His praise in the assembly of saints. Let Israel rejoice in their Maker; let the children of Zion be joyful in their King. Let them praise His name with the dance; Let them sing praises to Him with the timbrel and harp. For the Lord takes pleasure in His people; He will beautify the humble with salvation. Let the saints be joyful in glory; Let them sing aloud on their beds."
If the Lord takes pleasure in us, how much more should we delight to take pleasure in Him?!
Isa 57:15  "For thus saith the high and lofty One that inhabits eternity, whose name is Holy; I dwell in the high and holy place, with him also that is of a contrite and humble spirit, to revive the spirit of the humble, and to revive the heart of the contrite ones."
I'm the author of: Created to be Creative
to purchase my book  Click Here
eBook available