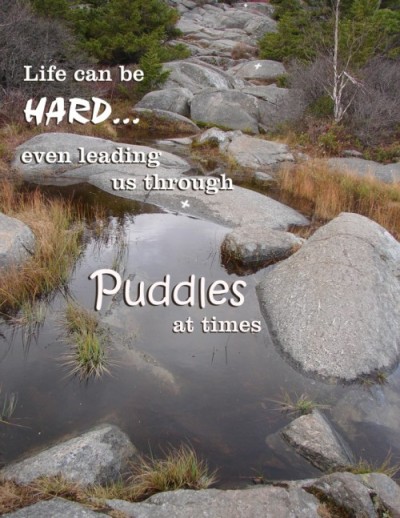 Life can be hard . . . even leading through puddles at times. About five years ago, my husband, Ron, and I decided to climb Mt. Monadnock in New Hampshire. He had climbed it with a group of friends at the age of 26 and knew I would love it. As soon as we filled […]
Read More
Subscribe to My Blog via Email
Wow!!!  My dad gave me your book the other day.  I was SO excited.  I'm about to start Chapter 4 but wanted you to know that I was having a very frustrating evening last night and was sitting on my couch crying over a current project.  I picked up the book and started up where I left off – God's timing is so perfect.  I began to read about not putting pressure on yourself with unrealistic timelines or expectations.  God began to minister to me.  I can't wait to read the rest of the book!!!
Tabitha ~ Graphics Design Artist,  Shannon, MS
Arleen Jennings came to speak at our Ladies Tea in March. Many of the women present were in the midst of reading her book on creativity. We were all blessed by the words that she shared with us that night on how we were made to be creative and the need to practice our creativity. Several times throughout her talk I could feel that it wasn't Arleen speaking but the Spirit of God through her. The message was exactly what we needed to hear and met us on a personal level right where we are at. Arleen would tell stories of her journey to creativity that were very touching and I appreciated the way she was willing to take the risk and reveal her heart to us. We all were ministered to that night.
 Emily ~ Fillmore Wesleyan Church
~~~~~~~~~~~~~~~~~~~~~~~~~~~
If you would like me to speak at your event, please use my Contact Page